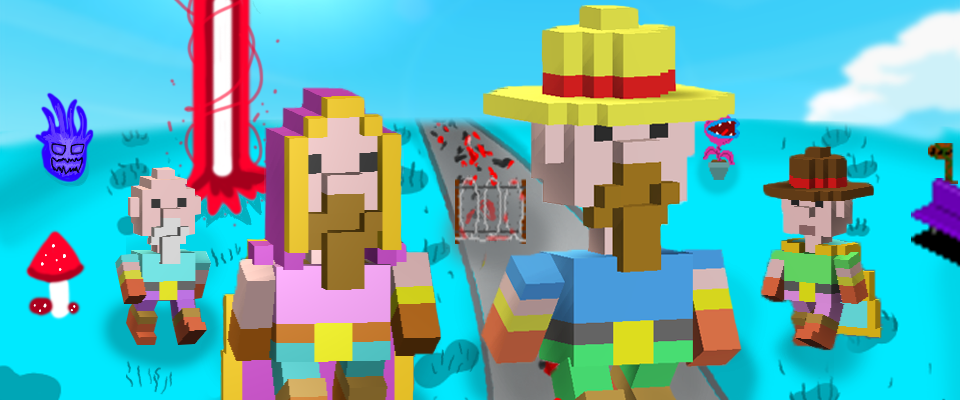 Groupe Sanguin - Team 22

Groupe Sanguin is a competitive, 4-player couch game about hiding in plain sight, waiting for the right moment to strike. Among a crowd of perfect lookalikes, hunt your fellow magicians while remaining anonymous.But mind your steps, for a wrong move could let your blood out and mark you as a priority target.


Groupe Sanguin is a 3D/2D party game with magicians and target to shoot your opponents. Imitate the crowd and hide yourself to be the last magician alive.
The target allows you to aim and shoot your opponents in order to find and kill them but beware, if you hit a clone he will attack you and he will reveal your position.
A dynamic and strategical adventure that will prove that your the best magician.

Local play with 4 players
Simple, easy to use commands
Short and fierce matches
Hidden traps to spice up your game
A colourful world destroyed by magic overuse.

Production Team: Tristan Solaro, Stefan Mohr
Design Team: Ayoub Ouahid, Yoan Saboureau, Zoé Wingardin
Art Team: Theo Balicour, Nicolas Willem
Programmer Team: Tom Lenaerts, Raphael Da Costa, Vincent Bruneau
Install instructions
Download step
Unzip the "GroupeSanguin.zip" folder
Open the "GoupeSanguin" folder
Click on GroupeSanguin.exe
| | |
| --- | --- |
| Status | In development |
| Authors | Cothos, YoanSaboureau, Kvasirson, rpahel, Furyn, Pumpkin, Myroir |
| Genre | Action |
| Tags | Cute, Fantasy, Local multiplayer, Post-apocalyptic, Stealth, Top-Down, Unity, Voxel |
| Multiplayer | Local multiplayer |
| Player count | Singleplayer |